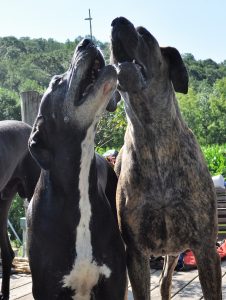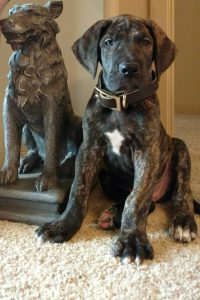 About Us-Great Danes of Burns
We are a small breeder of AKC Great Danes located in the heartland of Wisconsin. We breed for the love of the breed. Our dogs are raised indoors and are a huge part of our family. Our 3 young children love having such a big dog that is so gentle. Owning one of these dogs is truly a unique experience. They are gentle, funny, and lovable. Please feel free to contact me with any questions and we invite you to look at our site.
Thank you.
Here is what some families are saying about us
"This is a tight knit family with strong love and extremely ambitious motivated family. These wonderful Great Danes they are a part of their family. They are her gentle giants. Her "other children" They have so much room to run and play! Inside their own home as well as the HUGE yard! There well fed with homemade dog food, that she makes on a daily basis. I have spent over 30 years as Heather's nearest dearest closest friend, and I've seen firsthand on how loving and nurturing Heather is with each and every pup that gets delivered. How she sleeps inches away from the mother for weeks and weeks…Heather is definitely a committed and HONEST breeder!"
"We have gotten 2 Great Danes from you now and could not be happier. We love everything about them. The both of them are a year a part and behave so well. People always stop us and ask us who and where did we get these amazing Danes from. I always reply From Heather at Great Danes of Burns. You were wonderful and still are with all of my phone calls and questions. Thank you so much for making this the greatest experience we could have wished for. We cannot wait to get our next puppy from you.
-John A. J.
"Heather and Jason are very responsible breeders and Great Dane lovers. They're very knowledgeable about the breed and about dogs in general. They raise the dogs as a part of their family and love them just as much as their own kiddos. "
-Dawn S.
" Dyson is the third Great Dane that we've had in the past 22 years. We are very pleased with the service you provided to us. Thank you for allowing us to drive almost 5 hours to see him when he was only weeks old. In addition, at pick up you made sure Dyson was bathed and gave us a lot of written instructions on how to care for Dyson. We would definitely get another Great Dane from you in the future… You're a caring loving breeder and we highly recommend you!! Thank you!"
-Barb K.
"I couldn't be more thrilled with what Heather has provided us with. She's been such a great resource for information for my pup (even before I adopted one of her beautiful babies), she's SO kind, and you can tell that caring for, and breeding these beautiful gentle giants is her passion. I've been in touch with and have many conversations with many breeders, but Heather has made me feel the most comfortable, the most informed, and the most supported by a breeder. One thing that stood out to me about Great Danes of Burns is the way she offered her support and knowledge even before we chose her pup (she knew we were also in contact with another breeder). I couldn't thank her more for our perfect Howie that we have adopted from her! I will most definitely be recommending her to anyone who wants to add one of these beautiful giants to their home, or anyone who needs knowledge on Great Danes. I can't rate her high enough for what she's done for me. THANK YOU, from the bottom of my heart. You have filled our hearts, and have filled our home
"
-Kaila R.
"Absolutely love our puppy! Quinn has been so easy to train, fit into our family from day one. She's wonderful with my kids, grandkids and grooming clients. Such a snuggle bug
I can't imagine life without her!!! Thank you for trusting me with one of your babies!!"
-Amanda H.
***All paperwork containing personal information is deemed confidential***